If you're on Twitter, don't forget to use the hashtag #IMWAYR when sharing your link!
***Apparently, I've accidentally deleted a lot of my book reviews on my blog through incorrectly editing captions for multiple posts.***
We had a couple of great readings at our store. The first one was by storyteller Aubrey Davis known for his retellings of Jewish stories.
I wasn't sure what to expect when I first read his books but they were delightful. They had lessons but weren't heavy handed with them at all. A Hen for Izzy Pippik seemed to be the most traditional (in the sense of a story) about a girl finding a hen and keeping it safe for when- not if- the owner comes back. Before she knows it, the whole town is crowded with chickens. My favorite of the three books I read was Bagels for Benny about a boy thinking of thanking God by giving him bagfuls of bagels. What made this great was that it had a strong story, a powerful message, I learned a little something I didn't know beforehand, and the illustrations were good. The Enormous Potato is a story about working together and it's super silly which would be a hit during storytime. It was interesting to hear how he originally intended to tell the tale.
The second author we had in the store this past week was Mark Fearing who read his latest picture book.
I've become such a fan of his work and I've mentioned it to him that the books he's both written and illustrated himself are my favorites. This is one of them. He offers a slice of funny kid's perspective in this holiday story.
Another cool thing that happened was I got to meet a fellow blogger- Lorna of Not for Lunch– who was in Portland and decided to stop by. I wish I had more time to talk books to her -and her being a Book Fairy!- but we were (thankfully!) busy with customers!
This week, I posted:
–Nonfiction Picture Book Challenge Wednesday– Read my reviews for:

–Celebrate This Week– This week, I'm celebrating gratefulness.
-Picture Book Month Reading Challenge: Part 2- Read my reviews for:

A nice addition to all the picture books that have been released recently about ideas and creativity with this one tackling the issue of not worrying about what others might think because others may be thinking up things they're afraid of sharing as well.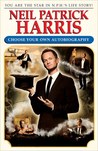 Neil Patrick Harris: Choose Your Own Autobiography by Neil Patrick Harris
My rating: 3 of 5 stars
Neil Patrick Harris is someone who I feel is a good role model not just to gay males or actors or parents or magicians but to anyone. I tend to watch his Tony Awards opening numbers just to cheer me up sometimes. He's always come off as extremely talented and curious and funny and generous. The format of this autobiography is Choose Your Own Adventures style when you can jump from story to story (as Neil Patrick Harris)with some of them ending in your untimely demise! It sounds gimmicky especially with magic tricks and drink recipes and guest celebrity essays thrown into the mix but it was an absolute delight. Of course, as an audiobook, it didn't have the choices available in print format but I think it worked better if you wanted a more linear storytelling style. Worth a read- or listen- to!
David Sedaris: Live at Carnegie Hall/Live for Your Listening Pleasure by David Sedaris
My rating: 3 of 5 stars
This is a double collection of audio books that will guarantee to make you laugh out loud. David Sedaris is a just a brilliant hilarious man.
You Have to Fucking Eat by Adam Mansbach
My rating: 2 of 5 stars
Not as bad as I thought it would be. It was my first time listening to an audiobook version of a picture book. Luckily, the previews of the pages I saw on online were not to my taste so not seeing them might have been better!
The Year of the Fortune Cookie by Andrea Cheng
My rating: 3 of 5 stars
I liked this book more than I thought I would. Even without having read the previous two titles, I didn't feel I was missing out on any important plot points. I do want to continue reading the series, though. These books would be perfect for the Ivy and Bean readers featuring a more diverse cast of characters and slightly weightier topics like cultural identity and adoption.
Rain Reign by Ann M. Martin
My rating: 1 of 5 stars
Unfortunately, this book rang false to me. I wanted to like Rose because she liked lists, prime numbers, and navigating proper ways to communicate with others. The book seemed false. I didn't like reading it.
My P titles:

A fun story about friendship with a scientific twist. This will appeal to many readers. I hope there'll be more books featuring this trio!
A lizard tries to avoid being lunch by convincing his captor to play with his food.
Expect reviews for these books during Wednesday's Nonfiction Picture Book Challenge post:

Rating Scale
*= It was OK
**= Liked it
***= Recommended
****= Highly Recommended
*****= Favorite
This week has been crazy busy. I'm hoping to get back into reading lots of CYBILS books and our pick for the Family Book Club which meets on Wednesday.
Have a great reading week!