Even though my part in the Cybils is over and the finalists have been announced, I wanted to share my shortlist. I read a lot of middle grade fiction this past few months and I wanted to spotlight the ones that made an impact on me. Some of the titles did make it to the next phase but my other favorites didn't.
(In no particular order)
The Meaning of Maggie by Megan Jean Sovern
My rating: 4 of 5 stars
Wow!
I'd been wanting to read this book since I love books with fun footnotes but I put it off until now.
Eleven-year-old Magnolia Jane Mayfield(a.k.a Maggie)is sure she's going to be President of the United States so she starts writing her memoir. And she has lots to write about with all the changes happening in her family that requires all of them to pull themselves up by their bootstraps.
I love her unique view of life and of how the world works. I loved her go-getter attitude, her unwavering sense of right and wrong, and her inability to resist sweets.
A refreshing coming-of-age story that defines who a person is in terms of their family.
A Bird On Water Street by Elizabeth O. Dulemba
My rating: 3 of 5 stars
For someone who doesn't like historical fiction, nature, and extensive physical labor, I really enjoyed this novel.
It's always refreshing to me to read about a male protagonist who has no obvious quirk but just is a relatable character going through unusual and life-changing experiences.
It was fascinating to read about a South Appalachian mining town set in the the 80's- that despite the fact that mining was causing environmental devastation and taking actual physical lives, it was all they knew and they depended on it.
Some might think this is simple or naive but it rang true to me. It made me want to do something good for the planet. Not all books have to make a big loud impact. It can start out small, like a seed, and grow from there.
The Secret Hum of a Daisy by Tracy Holczer
My rating: 3 of 5 stars
This was a book I had passed over when it first came out. I thought it was just going to be your typical orphaned-kid-must-now-face-the-world-on-their-own story but, after actually reading it, ended up appreciating it so much more.
The Secret Hum of a Daisy is a book full of surprises. Even when certain things were expected to happen, specific lessons to be be learned, I enjoyed the ride getting there. Loss- and how to rebuild a life after- was tackled very realistically and beautifully.
I also loved the way the different relationships and dynamics were written. I was reminded me how lucky I am for the grandmothers I have!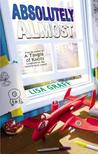 Absolutely Almost by Lisa Graff
My rating: 4 of 5 stars
I was almost hesitant to read this middle reader novel because it was so highly praised by so many people. I felt I was going to end up wasting my time reading a book just to be on the same bandwagon. But I'm glad I picked this up! I absolutely loved it!
Albie is a fifth grader who feels like he's not quite good enough for anything nor for everyone. The world is complicated with adults who don't understand and kids who mistreat those who are different from them. But along the way he meets people who are "caring and thoughtful and good" just like himself.
There are many elements in this book that make it accessible and relatable. This will be a great book to have alongside R.J. Palacio's Wonder, Kevin Henkes' A Year of Billy Miller and Tim Federle's Better Nate than Ever of various kinds of being different from a boy's perspective.
Another thing I loved about this book was that nobody's perfect but everyone is doing their darndest. It's something we can all try and remember.
Readers will be rooting for Albie!
Courage for Beginners by Karen Harrington
My rating: 3 of 5 stars
I wasn't sure I was going to like this at first because I've been too tired of books with a main character whose situations seem too gimmicky- in this case, an agoraphobic mother and . But as I read on, this has become one of my favorite books this year. In the beginning, I couldn't understand why they were acting the way they were, expecting them to change with a turn of the page because that's what I expect from books. The fact they didn't is what made me like the book more than I did. It was absolutely fascinating how each of them- particularly Misty- decide to navigate the new situations they find themselves in. Her growth and development wasn't big and splashy but realistic and happening incrementally.
Rhyme Schemer by K.A. Holt
My rating: 3 of 5 stars
Wow! This one caught me by surprise. Of all the middle reader novels told in verse this year- and there were plenty- this may just be my favorite of the bunch. Surprisingly insightful and relatable.
The Life and Times of Benny Alvarez by Peter Johnson
My rating: 3 of 5 stars
Another surprise! Maybe I'm biased towards books that are loosely about the love of words and the power they have to affect people. This one has a group of boys who love synonyms and have some sort of exclusive club. There also ends up to be a poetry battle. But it's a coming of age story of a boy trying not to make war with a certain girl in his class and trying to make peace with his family who considers him to be too pessimistic.
Funny. Touching. And relatable.
The Battle of Darcy Lane by Tara Altebrando
My rating: 3 of 5 stars
The new girl in the neighborhood threatens to ruin a friendship and the only way to settle it once and for all seems to be through a ball game called Russia. New alliances are formed in this surprisingly honest take of tweens.
Everything about this novel rang true. There will be mean people and sometimes they will win. But there are also good people and they will win.
I loved the portrayal of the parents here, especially at what Julia's mom says at the end. It seemed honest and a bit gut-wrenching that she even had to say it. I can't wait to recommend this!

The Key That Swallowed Joey Pigza by Jack Gantos
My rating: 3 of 5 stars
I didn't realize you can get so absorbed in an audio book that you totally end up walking past your house as I did with this.
I haven't read any of the earlier books in the series but that didn't really matter. Everything about this will hook you right in.
I was actually worried about Joey's well-being throughout. This dealt with heavy issues- ADHD, depression, and broken families. It's hard to make any of those subjects funny but I ended up laughing out loud on multiple occasions.
Joey Pigza is a completely memorable character and he will stay in my mind. I wish him well.
Five, Six, Seven, Nate! by Tim Federle
My rating: 4 of 5 stars
Tim Federle's Five, Six, Seven, Nate! is the hilarious follow up to Better Nate than Ever! And, man, if you liked the first one, you'll love this! You can't help but root for Nate the underdog as he discovers life in a big city away from home and his best friend. But that's the price you pay for living out your dreams, right? For anyone who has ever felt like an outsider, these books are for you!
All Four Stars by Tara Dairman
My rating: 3 of 5 stars
This was a book I passed over when it first came out and now after having read it I am looking forward to the sequel coming out in 2015!
Readers will enjoy the adventures of foodie Gladys Gatsby who is in trouble for almost burning down the house after trying to use a blowtorch to make creme brulee! Now she's forced to make friends instead of cooking.
She's also somehow mistaken as a grown up food critic and given an assignment to review a high end dessert restaurant in New York City. To top it off, she's in sixth grade and has homework to do.
Lots of fun.
There Will Be Bears by Ryan Gebhart
My rating: 3 of 5 stars
Bears. Hunting. Two things I had no interest in reading about.
But this book was absolutely captivating! Thirteen-year-old Tyson wants to go hunting with his best friend (who also happens to be his grandpa) to impress a girl he likes. But nothing seems to be going his way. There's drama at home and in school- and a deadly bear on the loose in the place where they're planning on going to hunt.
Tyson's conflicted emotions rang very true. And there were a couple of spots that really took me by surprise.
Nickel Bay Nick by Dean Pitchford
My rating: 3 of 5 stars
An eleven-year-old boy from a broken family and a depressed town lashes out by vandalizing other people's properties and stealing with his other no good friends. After one close call from the cops, he finds himself working for his mysterious neighbor. Suddenly, he's part of a secret that he's not sure he can handle.
This festive middle grade novel is sure to charm readers who crave adventure and mystery with a touch of heart.