This week, I posted:
–Nonfiction Picture Book Challenge Wednesday– Read my reviews for:

–Special #NFPB Post: More Jeanette Winter

–Celebrate This Week– This week, I'm celebrating beginnings.
[***] A beautiful alphabet board book with lots of things hidden that kids will enjoy identifying or looking for.
The Snowy Day [***]
Whistle for Willie [***]
A Letter to Amy [***]
Peter's Chair [***]
Goggles! [***]
Hi, Cat! [***]
Pet Show [***]
All books by Ezra Jack Keats
I wanted to meet my goal for my We Need Diverse Books
Reading Challenge
. I remember reading
The Snowy Day
as part of my Caldecott Reading Challenge and I was surprised the character Peter is featured in more books so I decided to check them out. It was fun to watch Peter and his friends grow and have fun and have adventures around their neighborhood. I also appreciated that the neighborhood portrayed a realistic urban scene. The illustrations were fun.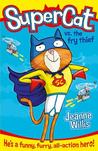 Supercat vs The Fry Thief by Jeanne Willis
My rating: 3 of 5 stars
Super Cat- Super silly, super fun and super entertaining read for beginning chapter readers. Kids and adults will enjoy this as much if not more than the Captain Underpants series. At least, I found it less crude.
The Stars of Summer by Tara Dairman
My rating: 4 of 5 stars
A good sequel needs to build from the previous installment and be able to stand on its own merit. The characters we've been introduced to needs to have grown from the things they've experienced- and any new characters need to be interesting enough without being the center of attention. The situations need to up their ante. The Stars of Summer does all this successful and I really can't wait to read more of her foodie adventures.
[****] [Off the Shelf Reading Challenge]
Until the End is an omnibus of the following three books:
The Party by Christopher Pike
My rating: 4 of 5 stars
The first book introduces readers to the characters that they will come to know and love and hate. There will be high school milestones throughout the series since it takes places during one senior year. In this instance, there are football games and student body elections and first dates. And, there will be a party that will end in death for one of them.
Friendships will form and crumble. Love will be found and lost. Lives will be taken and changed for better or for worse. It will leave readers wanting more.
The Dance by Christopher Pike
My rating: 3 of 5 stars
Dealing with the consequences of the party, the characters learn to move forward with their lives. High school continues to be full of typical teenage drama including getting ready for the big homecoming dance. This book definitely feels like a filler since enough things happen to make it interesting but not enough to explain anything. That's saved for the final book.
The Graduation by Christopher Pike
My rating: 4 of 5 stars
The third book in the series takes place all in one fateful day- graduation and the senior class party. And what a doozy of a day it is! Secrets are exposed. Feelings are expressed. The truth is finally revealed.
Reaping from all the seeds planted in the previous two books, this offers a satisfying conclusion to the series. It makes me wonder what they are doing now!
Rereading the series, I was impressed by the maturity and the diversity of Pike's characters. This seemed like pretty risque things back when I was in fourth, fifth and sixth grade!
Rating Scale
*= It was OK
**= Liked it
***= Recommended
****= Highly Recommended
*****= Favorite
If you're on Twitter, don't forget to use the hashtag #IMWAYR when sharing your link!
Have a great reading week!