With so many Reading Challenges out there, I figured keeping a monthly update on the ones I'm participating in will be a great way to keep track of my progress!
Off the Shelf 2015 Goal: 15 books– 2 more book read this month for a total of 12; Click on my To Be Read 2015 post for review.
Kate DiCamillo: 6 books: Completed; Click on my To Be Read 2015 post for reviews.
Nonfiction Picture Book 2015 Goal: 104 books– 6 more books read this month for a total of 87. Read reviews here, here, here, and here.
To Be Read 2015/ Must Read in 2015– 8 more books read this month for a total of 58; Click on link to see which ones I've read!
Reading Snapshots
511 Books read in 2015
13 Adult Fiction
13 Adult Non-Fiction
25 Graphic Novels
79 Middle Readers
359 Picture Books
22 Young Adult
Readings & Literary Events
–Carlos Reyes: Papers of a Poet/Publisher– Even though I wasn't familiar with the work of Oregon poet/publisher Carlos Reyes, it was still a treat to see all the things he's done in his work and to contribute to the literary world. I particularly enjoyed seeing the broadsides of his poems.
-Family Book Club- We read Patricia C. Wrede's Dealing with Dragons.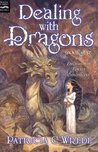 Dealing with Dragons by Patricia C. Wrede
My rating: 4 of 5 stars
Sometimes fairy tale retellings can seem tired, especially when it's supposed to turn it on its head. But Dealing with Dragons proved to be entirely enchanting!
Princess Cimorene decided to run away to escape an arranged marriage and ends up working for a dragon. Not only does she have to deal with well-intentioned but unwelcome princes but there are some wily wizards up to no good.
This is great to see how much stereotypes exists and how many people are affected.
View all my reviews
Aside from having the typical book club portion, I also asked some Oregon Battle of the Books style questions.
-Gregory Maguire- Author of one of my most favorite favorites, Wicked, Gregory Maguire stopped by to read his latest fairy tale reimagining, After Alice. He mentioned the different interpretations of the title and, wisely, talked about the book that made him famous- how the musical came about when there Hollywood had the options for it. He even sang some lines from the musical!
-Halloween Book Giving
How are your Reading Resolutions going?