This week, I posted:
–Nonfiction Picture Book Challenge Wednesday– Read my reviews for:
–Celebrate This Week– This week, I'm celebrating a summer of Gilmore Girls.
I got to participate again in Rox in Sox. Green Bean Books was the bookseller for this music and book festival. We curated the author line-up which this year included Shannon Joy and Rojo the Llama and Brian W. Parker of Believe in Wonder Publishing as well as returning writer Cathy Camper. It's always nice to introduce people to newer authors and illustrators, especially when they offer something different. I loved that I was able to witness special moments between authors and readers.
Last year, I spoke on camera helping to promote the event. This year, I helped introduce the authors on stage. I always try to do something that terrifies me or challenges me- and speaking in front of a crowd definitely does that!
This slideshow requires JavaScript.
Return by Aaron Becker
My rating: 4 of 5 stars
Wow! The final book in this stunning wordless picture book trilogy brings everything good from the last two stories and creates one last adventure that will leave readers satisfied. What an amazing journey this series has been and it will definitely be books one will want to return to time and time again!
View all my reviews
Blocks by Irene Dickson
My rating: 3 of 5 stars
Simple fun story great to read out loud to toddlers about colors and sharing!
View all my reviews
Open Up, Please!: A Minibombo Book by Silvia Borando
My rating: 3 of 5 stars
Lift the flaps to free the cute animals from their cages. But don't open the box! Fans of Lucy Ruth Cummins's A Hungry Lion will appreciate the humor in this book.
View all my reviews
I Love Lemonade by Mark Sommerset
My rating: 3 of 5 stars
I had no intention of reading this book. But when my boss told me about it, I read it just to make sure she wasn't pulling my leg about what it's about. Definitely for a specific group of people who like potty humor.
View all my reviews
Slacker by Gordon Korman
My rating: 4 of 5 stars
This is one of my favorite novels of the year- surprisingly so considering the awful cover which was why I never had the desire to read it in the first place. I love books about kindness and always am in the look out for books for kids that wasn't depressing or overly serious. Slacker is fun and substantial. It's about a gamer boy who almost burns down his house. To avoid getting into trouble, he creates a fake school club- the Positive Action Group- that, before he knows it, becomes something real. Today through different characters' perspectives, we see how a little good can go a long way. I'd love kids to read this and see themselves with that same power and still be kids.
View all my reviews
Six Kids and a Stuffed Cat by Gary Paulsen
My rating: 3 of 5 stars
I don't know why I picked this up but I'm glad I did. After reading Harry Potter and the Cursed Child, I began thinking of middle grade books written as scripts. I couldn't really think of any. A couple Young Adult titles did come to mind. And then this caught my eyes. I thought it was going to be like The Breakfast Club. (I actually hadn't watched the movie so I wouldn't know either way.) But I was pleasantly surprised to find it's both a novella and a play version. I thought this was particularly clever and it intrigued me. I loved the voice. It reminded me of Tim Federle's Nate Foster of Better Nate than Ever and Five, Six, Seven, Nate.
View all my reviews
Stars So Sweet by Tara Dairman
My rating: 4 of 5 stars
This series has been consistent good. In the final installment, Gladys finds herself overwhelmed with all the secrets she's been keeping since becoming a food critic for a major newspaper despite just being twelve. Adding to this, she's navigating friendship and extracurricular activities while starting middle school. A satisfying conclusion to a fun middle grade series!
View all my reviews
Nightmare Escape by Greg Grunberg
My rating: 2 of 5 stars
Cool concept and some kids may like it. I found it a tad cliche.
View all my reviews
Think & Grow Rich from SmarterComics by Napoleon Hill
My rating: 1 of 5 stars
I admit I was hate reading this. Think and Grow Rich was a book I'd been meaning to read. I believe I even started it but was so bored out of mind that I stopped. So seeing a graphic novel seemed like a quick and interesting way to see what the book's all about. This format managed to seem as lifeless and outdated as the original form. But just because it didn't do anything for me doesn't mean it won't do something for someone. I hope it does.
View all my reviews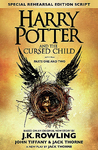 Harry Potter and the Cursed Child by John Tiffany
My rating: 4 of 5 stars
I like Harry Potter plenty- more the effect it has to get people of all ages get excited about reading- so it's kind of weird (at least to me) that I've read the entire series, the three books that make up the Hogwarts Library, the 800-word prequel, rereading the entire series once all the illustrated editions have been released, and perhaps reading any stories published on Pottermore. Despite all that, I wouldn't call myself a diehard fan which is probably why I enjoyed this installment so much! I was excited for fans that they had a new story. The format didn't bother me and I hope young fans can get used to it as well. I thought the Cursed Child was particularly clever if not feeling a bit fanfiction-y. There were emotional powerful moments. It was a treat to read!
View all my reviews
Review Notes
I've decided not to post reviews for books I didn't particular care for (unless I feel strongly against it.) If you don't have anything nice to say, don't say anything at all. Plus as an aspiring published writer myself, I know how much work one puts into a story so I naturally have great respect towards writers and illustrators and everyone else responsible for that creation.
***= Recommended
****= Highly Recommended
*****= Favorite
You can view all the books I've read at my Goodreads page.
If you're on Twitter, don't forget to use the hashtag #IMWAYR when sharing your link!
Have a great reading week!