I completely forgot to post last week!
Posts and news you may have missed:
-Nonfiction Picture Book Challenge Wednesday- Click here for my reviews of these books:
And click here for my reviews of these books:
-Celebrate This Week- I celebrated Mariah Carey one week. And I celebrated graphic novels this past week.
I'm also pleased to announce I'm a Round 2 judge for the Cybils Awards!
I've also put up a couple new posts on my other blog- Kindness Conversations. Click on the image below to direct you there!
Sam and His Dad by Serge Bloch
My rating: 3 of 5 stars
This reminded me of Rene Goscinny's Nicholas (Le Petit Nicolas) series which is a good thing. It's a cute story between a father and son.
View all my reviews
Marta! Big & Small by Jen Arena
My rating: 3 of 5 stars
I enjoyed this bilingual (English/Spanish) picture book about a girl who imagines herself to be different kinds of animals. Great for learning opposites. A glossary is included in the back. We had the illustrator Angela Dominguez at the bookstore to read this which was cool!
View all my reviews
Touch the Brightest Star by Christie Matheson
My rating: 3 of 5 stars
Somehow this skipped my radar. A cute interactive book to explore night-time wonders. Includes some fun facts in the back of the book about some of the things mentioned in the book. Tap the Magic Tree is available now in board book and comes out in 2017.
View all my reviews
Voyage to the Bunny Planet by Rosemary Wells
My rating: 4 of 5 stars
We had Rosemary Wells at the bookstore the other week. This was lots of people's favorite work of hers. I can see why. Absolutely charming. This is actually a collection of three stories about 3 kids who are whisked off to the Bunny Planet after their bad days. Add this to any kids library!
View all my reviews
The Lion Inside by Rachel Bright
My rating: 3 of 5 stars
A cute story which I think will appeal to very young readers about finding that roar inside oneself.
View all my reviews
Max at Night by Ed Vere
My rating: 3 of 5 stars
A sweet story about a kitten wanting to say good bye to the moon. I will definitely read more books in this new picture book series.
View all my reviews
The Water Princess by Susan Verde
My rating: 4 of 5 stars
Based on Georgie Badiel's childhood, this story introduces young readers to a situation they may take for granted- the lack of clean water for everyone. Peter H. Reynold's playful illustrations has a great appeal as well. I hope this book will not only be enjoyed but inspire thought and action!
View all my reviews
Leave Me Alone by Vera Brosgol
My rating: 4 of 5 stars
I thought this would be more like Strega Nona or a traditional village grandmother tale but I was pleasantly surprised to find it's actually quite trippy taking readers into unpredictable places.
View all my reviews
Otis and The Kittens by Loren Long
My rating: 4 of 5 stars
What I love about the Otis series is that he represents the good American image. He's loyal and dependable and will do what's right even if it's not what's easy. This is a nice tribute to firefighters as well.
View all my reviews
Penguin Problems by Jory John
My rating: 4 of 5 stars
Jory John introduces a rather moody penguin who has no qualms about sharing all his grievances. Will a chance encounter change his mind about his outlook in life? Readers will enjoy discovering all his problems and will maybe get them to reconsider their situation whenever they're feeling a bit complainy! Lane Smith's illustrations are great.
View all my reviews
The Princess and the Warrior: A Tale of Two Volcanoes by Duncan Tonatiuh
My rating: 4 of 5 stars
I'm a fan of Duncan and this was a great retelling of a folk tale. Not just a good story, this would be a great example to use in classrooms teaching origin or cultural stories. Includes a glossary and an author's note.
View all my reviews
What Is a Child? by Beatrice Alemagna
My rating: 3 of 5 stars
A celebration of childhood. Maybe we can all find ways to reclaim a bit of it for ourselves?
View all my reviews
Cityblock by Christopher Franceschelli
My rating: 3 of 5 stars
I love the art in this lift-the-flap series. This time around, readers are taken for a ride through various forms of transportation exploring the different venues and attractions of a city. Pay attention to the black cat hidden on most of the pages!
View all my reviews
The Peace Book by Todd Parr
My rating: 4 of 5 stars
Todd Parr is great in getting messages out to kids that are fun and understandable. Peace is simple acts that everyone can do and hopefully we will all do our part to make peace a daily part of our everyday lives.
View all my reviews
The Book You're Not Supposed to Have by Stephan Pastis
My rating: 3 of 5 stars
An enjoyable installment in the series. But if I haven't said it before, I hope there's a final book soon in this series which I really enjoyed the first few books.
View all my reviews
The Poet's Dog by Patricia MacLachlan
My rating: 2 of 5 stars
I'm not an animal lover. But I can see people who love dogs and/or poetry will enjoy this quick read about a brother and sister who get saved by a dog in a snow storm. It felt like a rather long Hallmark card to me. But some people love that.
One of the reasons I picked up this book was because it was a slim volume. So at least it had that going for it.
View all my reviews
Snow White: A Graphic Novel by Matt Phelan
My rating: 4 of 5 stars
I was so impressed by this retelling of Snow White. It's very artsy and noir-ish. Evocative illustrations and sparse text. Set in the Roaring Twenties and Depression eras. I would say fans already familiar with the awesomeness of graphic novels will appreciate this more than casual readers. Of course, fairy tale fans would want to add this to their collections as well.
View all my reviews
Outfoxed: A Fable by Dylan Meconis
My rating: 4 of 5 stars
Originally published as a digital comic, this was surprisingly insightful and fun. A laundress meets a fox who not only talks but can shift forms and have things materialize out of nothing. Find a copy of this to experience it for yourself.
Spirit of Service: Your Daily Stimulus for Making a Difference by HarperOne
My rating: 4 of 5 stars
This book is a great inspiring read for people who want to make a difference in the world. Each day of the week focuses on a different category- like money, energy, companion, and passage to name a few- and invites readers to mull them over and perhaps act upon what they've read. It took me awhile to get through this because I was constantly having ideas! A worthwhile read.
View all my reviews
Ghosts by Raina Telgemeier
My rating: 4 of 5 stars
Any book by Raina Telgemeier is bound to fly off the shelves regardless of what I think of it. Luckily, I enjoyed this graphic novel. It's prefect for the fall season because it leads up to the Day of the Dead celebration which lots of people just think of as another Halloween. A tender look into the fragile nature of life as well as a sweet insight to the strength of sisterhood.
View all my reviews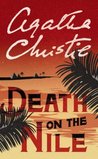 Death on the Nile by Agatha Christie
My rating: 5 of 5 stars
Classic Christie! A large cast of memorable characters. A murder most baffling. And Hercule Poirot with his little grey cells to work things out only he can.
[Agatha Christie Reading Challenge]
[Off the Shelf Reading Challenge]
Review Notes
***= Recommended
****= Highly Recommended
*****= Favorite
You can view all the books I've read at my Goodreads page.
If you're on Twitter, don't forget to use the hashtag #IMWAYR when sharing your link!
Have a great reading week!