First of all, Happy Holidays!
This week, I posted:
–Celebrate This Week– This week, I'm celebrating festive moments!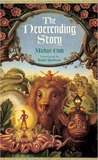 The Neverending Story by Michael Ende
My rating: 5 of 5 stars
I was immediately drawn into this story within a story. (I recommend getting an edition where they use different colored fonts depending on which world you're in- the real world or in Fantastica.) I could have done with a shorter second half but who hasn't ever wanted to enter a storyland?
A must have for every true Reader. Great as a read-aloud and one definitely worth rereading as an adult.
The Gallery by Laura Marx Fitzgerald
My rating: 3 of 5 stars
I had high hopes for this one since I loved her first novel, Under the Egg. This one also centers around art but this time during the Roaring Twenties. The set up and the characters were so promising but the ending felt like such a let down.
Into the Lion's Den by Linda Fairstein
My rating: 4 of 5 stars
One of the most engaging and exciting middle readers for me. Of course, having a mystery center around ripping a page out of a library book may not be everyone's cup of tea but readers will enjoy these tween investigators as they find themselves in unexpected dangerous situations. I can't wait for more books in this series!
My rating: 4 of 5 stars
I love David Wiesner's illustrations and, this story, being water-themed, reminds me of his incredible picture book Flotsam. I loved the story behind the story- that he had images but not an actual story to tie them all together. Hence, his partnership with Donna Jo Napoli. Together, they weave a tale of a mermaid trapped as a tourist attraction. What happens when she befriends a girl? How can she part of a world that was forbidden to her? This graphic novel would be perfect for fans of The Little Mermaid.
Available March 7, 2017.
Written and Drawn by Henrietta by Liniers
My rating: 3 of 5 stars
A cute early graphic novel reader about a girl writing and illustrating a story. Great to use in an elementary creative writing curriculum.
The Man Who Fell in Love with the Moon by Tom Spanbauer
My rating: 3 of 5 stars
I'd been wanting to read local (Portland) author Tom Spanbauer's works for awhile now. And this was an interesting choice.
A wild western-ish tall tale with lots of soap opera moments and revelations. One of (if not) the most sexually explicit books I've ever read.
I was hoping to enjoy this more because the characters were surely very memorable and the situations they found themselves were real pageturners. But it also seemed too much.
Review Notes
I've decided not to post reviews for books I didn't particular care for (unless I feel strongly against it.) If you don't have anything nice to say, don't say anything at all. Plus as an aspiring published writer myself, I know how much work one puts into a story so I naturally have great respect towards writers and illustrators and everyone else responsible for that creation.
***= Recommended
****= Highly Recommended
*****= Favorite
You can view all the books I've read at my Goodreads page.
If you're on Twitter, don't forget to use the hashtag #IMWAYR when sharing your link!
Have a great reading week!